General Information
Name:
Katriane Elena Westwood
AKA:
Kat (by close friends only)/Westwood (by other Stark employees)
Gender:
Female
Age:
28
Place of Birth:
Clinique des Grangettes, Genève
Inoculated:
Yes
Personality:
Kat as she prefers to be called is often described by her friends as quiet, intelligent, trustworthy, just and strong willed. No one except her deceased fiancé Ryan knows of her more loving and passionate side.
Since the age of 5 Kat has acted like a perfect lady, charming and being polite to whomever she interacts with. However in her line of work she would not survive long by being just polite and so with anyone she deems a threat she is cool and firm. Generally it is hard to tell what she is really thinking or feeling. It's not she would show no emotion, she just feels it's unnecessary to let the world know how she feels. She simply does not want to burden any problems she may have on others.
Ryan Murphy the love of her life was the first to look into her eyes see what was really there. He got her to open up in a way only her mother could. With him she was always happier and felt complete.
Kat was christened a Christian but religion was the first thing that she felt disillusioned by. Kat believes that there is perhaps an afterlife and perhaps a god but she doesn't believe any of the lies (as she sees them) that the main religions tell.
Kat is logical yet thoughtful. She can make quick decisions but she will always consider their consequences afterwards. That doesn't mean she regrets doing the action, she just likes to think about how she could have done it better, for next time. The only complaint her school teachers had was that she was a daydreamer and she still is. She is just too full of thoughts. Her mother used to tease her and get her to snap out of her reverie but few others can.
Her job as a field operative for Mi5 meant she needed to be logical and calm even in situations where she might want to simply kill the perpetrator and be done with it. She has hurt people in her line of work but she has yet to kill someone. She always tried to minimise casualties and dislikes hurting people or animals. Some of her colleges past and present are cold blooded killers. She is not one of them and does feel pain and suffering but is well trained enough to hide it. However she is not fond of weakness. If she feels someone is being weak or whiny she will ignore them, deeming them a waste of her time.
Likes: hiking, cute animals (secretly), bacon and maple syrup pancakes, solving puzzles, stories and peppermint mochas.
Hates: Lies (and the people who tell them), reality tv shows, mess, crowded places (mild claustrophobia that gets worse if she's stressed), pink (the colour), bus rides.
History:
Katriane Elena Westwood was born in a private hospital in Switzerland to her loving parents, Bellatrix and Geoffrey Westwood. Bellatrix was world famous classical singer who sometimes appeared in musical theatre shows. Geoffrey was a diplomat, the British ambassador nonetheless. He was 40 when Kat was born, his wife 35. Until she was 5 the little family lived in Geneva with Bellatrix's parents who were Swiss. It's hard to say what her first language is as she learnt French and English from day one. Her first word was 'snow' though. She was a happy child, precocious and adored. Her parents and grandparents called her their little angel.
Then her father needed to move to the Middle East for his work. Her mother wanted to re-start her singing career which she couldn't do in the Middle East so the family split up; with mother and daughter going to Italy and Geoffrey living in the kingdom of Saudi Arabia. Luckily for Kat her family were rich enough for many visits to each other and so she didn't miss her father at all. Kat started to long for a pet and would often adopted strays off of the streets of Naples but her mother had to tell her that they couldn't keep them as they had to move around too much. After all who would look after her pets when they went to stay at Papa's? Her mother also had a soft spot for the strays however and would pass them on to a local animal shelter donating money every month to help feed them. Kat also volunteered at the shelter when she had free time as she loved being around the animals. Not that she had a lot of spare time. As the daughter of a diplomat she was to be taught how to be a lady, she received etiquette, ballet and singing lessons weekly.
She made friends easily but she was never particularly close to other children. She preferred to talk to and copy the household staff with her best friend Snowy the arctic hare. He was a very life like stuffed toy she had been given for her 3rd birthday that she took everywhere.
When she was 11 her family moved again, to move back together. Her father was being reassigned to Belarus and her mother was delighted to be able to join him. Their joy was short lived however as Mr and Mrs Westwood were assassinated at a charity benefit where Bellatrix was performing. Kat had stayed at home that evening as she had a test the next day though that did not mean she was safe from her parents murderers. They went to the British embassy to finish their job but as they were torturing the gardener for information the Westwood's bodyguards arrested them. This is when Kat decided she wanted like the men and women who'd saved her; she did not dwell on her parents' cruel murder but the idea that they had been able to save her at least. Something she knew even then. That as long as their angel lived their bodyguards had done a good job. It didn't matter that they hadn't been able to stop their murders. When she later researched who these 'Mi5' people were, who'd been her bodyguards since she could remember. She was in awe and not sure if she could ever live up to such a high dream. Sandra and Dean, two Mi5 agents, who had stayed with Kat to protect her in case the Russians or anyone else decided to finish the job of killing the Westwood's. Encouraged her, giving Kat the confidence she needed.
Kat was sent to live with her Swiss Grandparents once more. They noticed that in her grief Kat had lost all of her childhood innocence and seemed to burn with ambition. They supported her dream. She was given a Bernese mountain dog for her 12th birthday who became her new best friend and bodyguard. She threw herself into her schooling but would often be much slower at learning new topics than her classmates, and although she mostly got A's she had to work very hard to get such good grades. Eventually her grandparents decided to get her tested for dyslexia. It was found in some areas she was above average (especially in non-verbal matrix reasoning - problem solving) in some areas but quite a bit below average in others. Once she developed some coping strategies Kat became a very strong student. Outside of school she did gymnastics, athletics, horse riding, and singing and self defence lessons. Anybody that taught Kat admired the strength of her self determination.
At 18 she was ready to go to university. After looking at all the options she decided to go to Oxford in the UK, there she studied Psychology and Philosophy. It was also in Oxford that she met Ryan.
Ryan Murphy was the son of a mechanic and a nurse, nothing to be ashamed of but nothing special either. He had 3 younger brothers who looked up to him and he enjoyed to boss around. He didn't mean to be so domineering but he couldn't help it. He was born to be leader. He'd decided long ago that he wanted to fight bad guys. As he got older he decided that meant he should join the SAS, one of the toughest fighting forces in the world. His parents encouraged him to go to university first so he could join as an officer so he chose to do Geography at Oxford Brookes. He worked at
Angels
a stylish cocktail bar popular with the ladies of both of the city's universities. He hated his job because the customers were often rude snobs making ridiculous demands of him and his colleagues. The night he met Kat was no different. She was waiting by the bar for a date who would never turn up. She'd been matchmaked with him by a mutual friend but he got too drunk on pre-date drinks and passed out in his dorm before he could even meet her. Kat sat in the bar patiently waiting, she hadn't even noticed that her date had yet to show up as she was daydreaming. Ryan not usually concerned about his clientele noticed Kat and as the bar wasn't busy struck up a conversation. They discovered a mutual liking of hiking and Kat agreed to join Ryan and his friends from the hiking society's trip to the New forest that coming weekend. And the rest you can say is history. They got closer as friends at first but it was only when Kat when home to see her sick dog died did they realise they loved each other. Ryan flew out to comfort Kat and Geoff (named after her dad) died in their arms. Both had, had partners before but their relationship was something else and it lasted a long time.
They graduated from their respective universities, Ryan with a 2:1, Kat with a first. They moved in together in a flat in London, near Hyde Park. Luckily both of their prospective careers complimented each other. They both needed to train in combat, survival skills and to keep fit. They would train together as often as they could but soon Ryan had to go away for his SAS training. Kat missed him but was very busy herself going through testing to see if she was suitable to be a Mi5 agent. Though with Sandra and Dean vouching for her saying what a good kid she was sped up the usually slow process of becoming a national security agent.
Once trained Ryan lived with Kat as often as he could and Kat was now an intelligence operative for the Mi5 using her puzzle solving skills to stop the bad guys as she always dreamed. She pushed to become a field operative though and at the tender age of 25 she was deemed ready. Ryan took some annual leave when he found out the news and took her to their favourite park in Oxford to propose. Shortly after that however disaster struck again. Ryan was becoming very sick, he had bone cancer and it was unknown as to whether he would survive. Kat quit her job relocated herself and Ryan to Switzerland once again and nursed him for a year. After some hope that Ryan was getting better he died peacefully in his sleep. Kat became very lost after his death; she felt very purposeless and didn't want to return to work. She felt that as a Mi5 agent could do nothing to fight her fiancé's killer. Also she was becoming very disenchanted with the British government. She saw the country going into recession and reality tv shows showed lowlife scum who stole money from hardworking taxpayers such as herself. As she began to consider suicide she remembered a group that were working to cure cancer, Ovid or something like that. Using her Mi5 intelligence skills and contacts she found out about McFarland's project. Not enough unfortunately just that he was testing a serum that could cure cancer. She found that he'd employed Stark Operatives, a security company and was delighted to have found her answer to her apathy. She would protect people who were trying to fight her fiancé's killer. Not those who took drugs and beat up their families then expected the people around them to foot the bill. She began to think maybe the Muslims were right about the west, maybe they deserve to go to hell. She informed her grandparents who were very frail now, that she was going to help cure cancer in the USA. They were too old to question her sudden change in life choice and wished her well.
The top people at Stark were very impressed with Kat they were happy to give her a high position on their security team. From her background however and deduced that it was best to keep her away from the forced human innoculees. Knowing she wouldn't approve. They put her in charge of the animal inncoulee department but never let her know of the more vicious tests. She enjoyed her new job and was one of the people who considered the wolf test subject as a pet. When she heard some of her fellow employee's were being tested on she quickly signed up, excited that she could be more useful than a simple guard. When the process was explained to her, even Kat struggled to contain her excitement. She was going to be a Snow hare, just like her best friend.
Physical Information
Visual Appearance: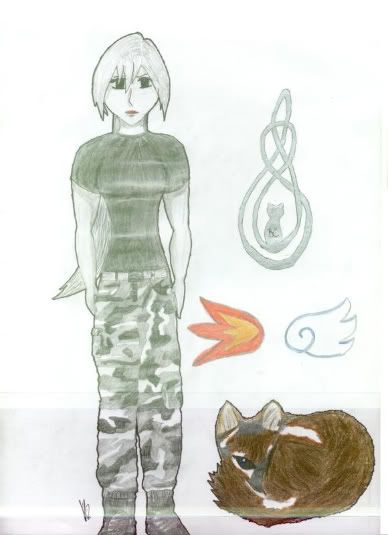 Physical Appearance:
Kat is 5'6" and slim. She is physically strong due to her training but only shows a slight muscle tone and has larger limbs that people expect from someone her size.
Many people say she is pretty perhaps even beautiful. Kat cannot see this; she just sees her mother when she looks in the mirror. Except her mother had deep blue eyes, Kat's are forest green like her fathers. Though they have a ring of blue around the pupils what changes size and colour with Kat's mood.
Her hair is very long, when down (which it rarely is) it goes past her bum. It is slightly wavy at the bottom but is otherwise perfectly straight. The colour is inherited from her mother again, a platinum blonde. Kat keeps it in a pony tail most of the time, typing it up more if needed but only lets it down in private. Ryan loved it when she let her hair loose.
Her skin tone is quite pale and will only tan to a honey colour if she lets it. Her lips are bright red naturally which often confuses people considering her skin tone. When she blushes she looks as though she is wearing make-up but she hates the fuss of putting the stuff on so rarely does.
She has 3 tattoos. The first two are wings, one mean to represent water on her right ankle and the second to represent fire on her left ankle. She got these when she was 18 without telling her grandparents. She wanted something to show the hidden conflicts inside herself (see visual appearance for picture). The other tattoo was an involuntary one that she doesn't know she has yet. Stark decided to mark her as their own. She'd signed up to be inoculated voluntarily but they knew she was a delicate subject, only kept loyal as long as she felt the cause was just. So they tattooed her just below her right shoulder blade with their logo.
Alternate form description
When transformed Kat is an arctic fox, at the moment as it is summer she has a summer coat of auburn-brown fur with white and black patches. Her eyes are the same colours as if she was human. In the winter she will grow a thick coat of snow white fur.
She is a little larger than the average female arctic fox, being 110cm from nose to bum, 30cm high at her shoulder and weighing about 3.5kg. The Stark scientists think that as she transforms in to a quite small animal her human genes make her an abnormal size, they hypothesize a male subject would be even bigger.
Clothing and Armour:
As she focused on her career and training Kat's fashion choices became more practical. She began to wear clothing that would keep her warm and that she could exercise in. During her time as a Mi5 agent she'd wear smart business like clothes also. Since joining Stark operatives Kat brought with her, Kevlar reinforced combats in urban camouflage (grey), a grey all weather fleece, tailor-made combat boots with clips rather than laces and lots of black t-shirts. Since being inoculated however she is currently wearing hospital scrubs and will learn the benefit of organic clothing. She will begin to wear simple clothes made out of organic materials but if she feels it is necessary she will wear Kevlar armour over organic and modest undergarments.
Weapons:
As a Mi5 agent Kat had training in most kinds of guns. Personally she prefers hand to hand combat and is a black belt in mixed martial arts. In the base she owns and has access to pistols and SMGs her favourites being silenced USP .45 (pistol) and a MP5 SD (SMG - also silenced). During her time with Mi5 she was taught to always carry a silenced weapon and as she does not like to call attention to herself she keeps up the practice. Her accuracy with these are 100% up to 30m, 20m if its a moving target. The MP5 is effective up to 100m though. She also has an explorer Swiss army knife with many functions that she keeps on her at all times.
Inoculated only
Alternate Form:
Female, Arctic Fox (
Alopex lagopus
)
Abilities:
Kat is pleased by her ability as it is the ability to heal. However she will be disappointed to find that it does not let her heal people with incurable diseases. It is easiest to explain how it works rather than its limits. Her ability heals by providing energy for the process and guides an injured body to heal itself. For example it can knit a broken bone back together or it can repair a cut in the skin or an internal organ. She does not have to be able to see the injury to fix it. She feels for it mentally as she places her hands on the injured body.
She can heal some mental injuries too, though it's very limited and the patient must want to be healed or at least want to be a better person. It's very useful for addictions. To heal a mental injury she must be in human form as she sings the patient to sleep. Then she must continue touch contact as they dream about their mental issue, after a certain amount of time depending on the issue, they awake, feeling refreshed. As Kat must stay awake for this process it can be very draining, she must also see what it is that hurts the patient, which can be very shocking. Luckily she has a strong mental calibre but if this kind of healing was done too much without suitable respite or counselling for Kat in between she that calibre may not last.
The sort of things Kat can heal are things that couldn't be healed naturally after some time and TLC. For example she can't heal a diabetic, if a person doesn't have any insulin or their body doesn't recognise the hormone she can't change that. Another example is she can't cure a person with a malignant tumour but if they have had the tumour removed or reduced then she can make sure they make a full recovery. She can't prevent a relapse though.
After a healing the patient will feel weak and sleepy. Depending on the injury they will feel like this for an hour to a few weeks. After a major healing, where the patient needed lots of blood or had a lot of injuries. Kat will also feel drained and need to rest; again the time depends on how much she needed to heal. She also knows basic first aid from her Mi5 training. She uses her knowledge of this to help her healing.
Other Information
Faction:
Stark Operatives, head of the animal research department.
Bonus Section:
Her mother's maiden name was Chevalier, Katriane wears a pendant that was once her mothers with her mother's initials (see picture in visual appearance). She also has Snowy the snow hare and one of Ryan's hoddies with her at base.