General Information
Name:
Alix Jeric
AKA:
Katagida
Gender:
Male
Age:
18
Place of Birth:
Unknown
Inoculated:
Modified Version. His Eyes are more similar to those of a feline than a humans, and his speed, strength, agility and nightvision are heightened for a human, but not to the same levels as that of Onca, Tigris, Leo, and Pardus in cat form. (he's about halfway in the middle, or roughly twice as strong as a normal man, can run twice as fast and as long as a normal man, and is twice as agile, letting run up and along walls for no more then four steps) He, however, has no alternate form.
Personality:
Alix has no illusions about the depths of human depravity, and it shows. Ever the cynic, he expects the worst in people, and is generally confused by kindness, and especially self-sacrifice. He isn't afraid to speak his mind, or to criticize others, although he doesn't take criticism very well himself. He is quick to anger, but it is often short lived. His focus is always on the survival first, the task at hand second, and everything else goes after that.
History:
As a child, he was raised in a secret Military Institution in the Nevada desert. He was then a member of Project SuSo (Super Soldier), a project based on raising children to become killers from birth, and making them a strike force.
At ten years old, he, and the other thirteen children who had survived to that point were given the privilege to choose their names (they had been known by their number assignment until then) he chose Alix Jeric because he enjoyed the way it sounded more than anything else.

One of his fellow soldiers, a girl who had chosen the name Pheyora, had shared a small romance with him until she fell on a mission when they were 16. He blamed his only friend other than her, George S. Finley for her death, which led to the two of them growing more and more bitter of each other, and eventually led to his own downfall.
His rival from the start, John Prestor, continually spurred him to improve himself, until Prestor gathered the rest of the boys in the program and, at Finley's urging, forcibly removed Alix from the base.
Alix was captured one night whilst sleeping, and quickly bound and gagged by seven of the remaining ten surviving soldiers, and taken to a helicopter. During the flight, he managed to undo his ropes, but only moments before he was dropped into the Bridger Wilderness, and though he survived, he was badly wounded, and collapsed shortly after landing. He was found by Dr. McFarland, who nursed him back to health, and used a modified version of Serum 43x to turn him into one of the most powerful beings he had created to date as his own personal bodyguard.
Recently Added into Stark Operatives for the purpose of sniffing out those less than completely loyal to McFarland, the other Operatives know only that he has a special inoculation and is rather gifted at what he does.
Physical Information
Visual Appearance

(completely optional):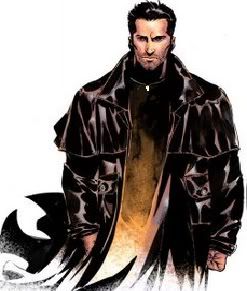 Physical Appearance:
Short, cropped dark brown hair, he has a very sinewy figure, allowing him to be far stronger than he looks. should he ever take his shirt off, his entire 5'10 frame would be covered in scars from training and fighting with sharpened swords. His left ear has a chunk torn out of the top. His gray eyes are always impassive. He has an identifying tattoo on the bottom of his right foot in the shape of a drop of water, known only to other SO members and Dr. McFarland himself.
Inoculated characters, please describe both forms in detail.
Clothing and Armor:
His longcoat is a dark brown leather longcoat with a layer of chain links in the inside of the coat (think Rahjput armor, but with hardend leather on BOTH sides of the chain), and his clothing (dark green long pants and a gray shirt) are the same design but with silk instead of leather. His black combat (military issue) boots have knives hidden in their soles. Around his neck is a vial with a spark of electricity inside of it that he can draw out and put back in. The vial has a very thin layer of specially treated rubber inside that will keep the spark from being absorbed, or dissipating.
Weapons
He has been trained to use a Hand-and-a-Half sword since he could hold a to-scale replica, as well as a pistol. He is among the best with the sword and (provided he isn't running, which halves this) accurate within 50 ft from the target.
His current arsenal includes his sword (titanium alloy, very strong and light) with a trapped spark of electricity in the pommel, similar to the one around his neck, as well as a pistol with a special compartment in the barrel that can generate another spark of electricity that jumps onto the bullets and is carried into the victim of the shot, but using it drops his accuracy rate (because of the concentration needed to keep the electricity from dissipating) to about 20 ft.
Inoculated only
i guess this counts for him?
Alternate Form
he has none other than his own, but he is far superior to any normal human.
Abilities
beyond the superior strength, speed, and agility mentioned above, he can also manipulate electricity. he cannot create it, but if it is nearby (say within a quarter mile for the really powerful stuff [powerplants, storm clouds, etc] and closer as the strength of the electric charge weakens), he can expand it (to no more than a 3"X3"X3" block, and that takes constant concentration for him at the moment) direct it, etc.
by nightvision, what i mean is that he can see just as well in half the light that most men can see in full light, half as well in a quarter of the light, etc.
Other Information
Faction:
Himself, first and foremost. However, for the moment, this lends itself to being McFarland's Bodyguard, as the man can end Alix's life with a push of a button, if he so chose.
Bonus Section:
He has a chip lodged into his brain that, when activated, will explode, killing him immediately. This was put in by McFarland as a failsafe to make sure he followed orders.
If i didn't make sense with something, either PM me or reply to this post with the confusing part quoted. thanks.